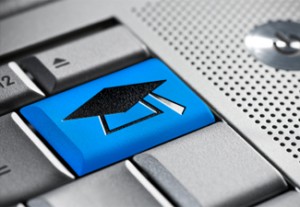 On the topic of education beyond high school, African-American minister and human rights activist Malcolm X once shared; "I imagine that one of the biggest troubles with colleges is there are too many distractions…."
However choosing online courses is a way to escape a lot of distractions associated with college-type settings, no matter what your age. Even if you did not attend college right out of high school, it is never too late to begin taking online courses to boost your resume.
Instead of choosing a course at random, take courses that can help further your career. One example is a CCNA course that helps you prepare to take the certification exam. This is especially important if you plan to work in the IT industry.
The Many Benefits of Online Courses
Online college is not your only option for continuing your education. There are so many opportunities, and even more benefits to taking online courses. Here are some of the more common benefits that directly relate to your job.
1. Get Employed ; Certifications can mean the difference between turning over a new leaf in your career and turning over a new page of the help wanted ads. The best way to prepare for passing a certification exam is through online courses.
2. Easy Scheduling ; Online courses are flexible which means taking them will not interfere with your work schedule. Even those with exceptionally busy home lives and social calendars find it easy to make time to take these online courses a scheduling.
3. Learn Anywhere ; The courses are online, so as long as you can connect to the internet with your laptop you are free to take the courses wherever you like. Cable modem down at home? Head over to the local coffee shop and enjoy free refills as you learn!
4. Better Opportunities ; People who list online courses on their resumes have a greater number of abilities in their professional skill set. This allows them to apply for a wider range of positions in a more diverse number of industries.
5. Stay Employed ; In 2009, the jobless rate for people aged 25 or over who had some type of education beyond high school was nearly half of what it was for those who did not have a high school diploma. The more experience you have, the harder it is for an employer to replace you.
Credible Courses versus Con Artists
Unfortunately there are a lot of scammers across the World Wide Web that use outdated tutorials and self-study programs to coach unsuspecting students in exchange for a hefty fee. Some of these scam sites look surprisingly realistic and fool people daily.
If you take one of these courses, then when the course is over you are not only out money, but you are also no closer to being prepared to take your network certification exam. That is why it is imperative that you be able to distinguish from a legitimate course and a false one.
One way that you can do this is by looking at the network site to see what online course companies they endorse. Another way is by reading online reviews written by someone who is not affiliated with the course itself.
Once you have selected an online course that is credible, then you can be sure that it will not only help prepare you to take the exam, but that it will also help you obtain a higher score. However, this does not make you exempt from studying or homework.
Online Courses and Your Employer
When you list online courses on your resume then you are telling employers that you are self-directed, which means you do not require constant supervision. You are also telling your employer that you are okay with increasing your knowledge through training.
Employers who hire people with network certifications can expect a higher level of productivity in a less amount of time. This level of efficiency costs the company less. It makes clients happier because their network problems are solved more quickly.
When clients are happy, they keep coming back. And every time they praise your companys IT department for its ability to keep their business up and running, it is like free advertising, which is another way that your employer saves money.
Employers who spend less on dissatisfied customers and advertising are able to offer higher salaries and more benefits. That being said, you can see why Cisco CCNA training videos is an important part of getting ahead in today's workplace.