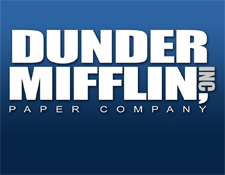 Earlier in the year FORTUNE Magazine wowed" us with their "100 Best Companies to Work For." Odds are though, you probabaly think that work sucks no matter where you are. Are you telling me no one has a crappy, passive-aggressive, nightmare-of-a-boss at Google? C'mon! In honor of this list, and the countless other useless career lists, we have one of our own: Jobacle.com presents the 57 Best FICTIONAL Companies to Work For. Since they're not real companies, work can't suck as bad!
This list is by no means complete. Please add your picks in the comments section below. And don't forget about the Worst Fictional Bosses too! We'll be talking about this on a future episode of the Working Podcast – so please subscribe now!
57 Best Fictional Places to Work
Arcade Flower Shop, Three's Company: Never any misunderstandings.
Madam Malkin's Robes for All Occasions, Harry Potter: Diagon Alley's finest.
Victoria's Circuit, Futurama: Lingerie for robots. Hot!
33¢ Store, The Simpsons: No employee discount.

El Banco Corrupto, Grand Theft Auto: Vice City: Fill your pockets.
Silver Shamrock, Halloween III: Free masks (and snakes!)
Stay Puft Corporation, Ghostbusters: Marshmallow madness.
Wonka Industries, Charlie: Take home a oompah loompah!
Blue Moon Detective Agency, Moonlighting: Old actors at their hottest.
The Foundation, Knight Rider: Your office is a truck. Your cube is a car.
Macmillan Toys, Big: Damn Zultan!
The Reef, SpongeBob SquarePants: Movies, popcorn,Goobers – oh my!
Merrick BioTech, The Island: Clones of Scarlett and Jude? Say no more.
The Peach Pit, 90210: Nat. And free blueberry pie.
The Korova Milkbar, A Clockwork Orange: Great scenery.
Paper Street Soap Company, Fight Club: No direct deposit.
Mel's Diner, Mel's Diner: Free cherry pie.
Dunder Mifflin, The Office: Oh, the comedy.
The Everything Store, I Heart Huckabees: Discounts on everything.
Rodbell's, Roseanne: Free apple pie.
Rex Kwan Do, Napoleon Dynamite: Vote for Jobacle!
The Fairly Oddparents, Wall to Wall Mart: Ah, walls.
Vitameatavegamin, I Love Lucy: A happy cure-all.
Bushwood Country Club, Caddyshack: Everyday is Groundhog's Day.
Consumer Recreation Services, The Game: Challenging and fun.
The Rusty Anchor, Golden Girls: I'd work there for the ladies.
IPS (International Parcel Services), King of Queens: What can crown do for you?
Pendant Publishing, Seinfeld: Kick Piederman in the nads.
Lacuna Inc., Eternal Sunshine: F with their minds.
H.A.L. Labs, 2001: A Space Odyssey: Damn Heuristically programmed ALgorithmic computers!
Life Extension, Vanilla Sky: Open your eyes.
Rekall, Inc., Total Recall: Quaid!
Bluehound Bus Line, Dilbert: All abord!
Atlantic American Airlines, Meet the Parents: Chopsticks in your hair are optional.
KACL, Frasier: I'm listening…
Flingers, Office Space: Flair!
Burrito Explosion, Mr. Meaty: Cooler then Soy What?
Fatso's, The Wonder Years: A Drive-In that calls it like it sees it.
The Max, Saved by the Bell: Always open, never crowded.
McDowell's, Coming to America: The original Mickey D's.
Bada Bing, Sopranos: Boobalicious.
Wu-Tang Financial, Chappelle's Show: High-yield finds!
Wally World, National Lampoon's Vacation: They're always closed.
The Dharma Initiative, Lost: Who are these people?
The Leftorium, The Simpsons: Argh! I'm right-handed.
Edna's Edibles, Facts of Life: God bless Mrs. Garrett.
Daily Planet, Superman: Unlimited sick days.
21 Jump Street, 21 Jump Street: Back to school.

The Enterprise, Star Trek: Beam me up.
Powell Family, Charles in Charge: Professional babysitter.
Central Perk, Friends: Except for Gunther
Night Court, Night Court: Late hours.
Arnold's Drive-In, Happy Days: Fonz rules!
WKRP, WKRP in Cincinnati: Venus Flytrap foreva.
Moe's Tavern, The Simpsons: Hi, is I.P. Daily there?

Lomax Industries, Weekend at Bernie's: The boss is dead!
Hudsucker Industries, Hudsicker Proxy: From the mailroom to the top.
NOW ADD YOUR PICKS BELOW and win free stuff in our comments contest.