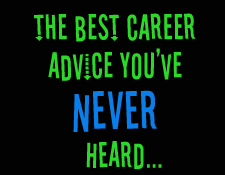 It seems like almost every career blog and Web site offers up the same recycled advice. As our regular readers and listeners know, Jobacle dot com tries its best to bring you a unique take in an already over-crowded genre.
Notice how the same "writers" and bloggers show up in all the same places? All they do is troll each others blogs looking to riff on the same tired topics. We're not going to name names. You know who you are. And so do most of your readers.
With that said, we are calling on career bloggers to issue a fresh voice. We kindly request you join in on a joint post, "The Best Career Advice You've Never Heard."
We don't want to hear how you should never burn bridges and how you should always maintain eye contact – quite the contrary. Share some out-of-the-box concepts and explain how they could actually help a career. They can reflect a sense of humor. The only criteria is that your item is different, useful and pithy.
E-mail me your unique tip and we'll include it on a larger post that we're working on. Of course, you'll get full credit and a post back to your Web stomping ground. Plus, a mention on a future episode of the Working Podcast.
To get you started, here's an example of Career Advice You Never Hear:
Take a Smoke Break – A few extra minutes a day away from your desk is hardly worth getting cancer over. However, consider this… by simply picking up the habit (or faking it, which I do), you can expect to work 10 – 14% less then your non-smoking counterparts.
There's some career wisdom for ya! I also suggest that you pretend you are religious. More on that when we publish the full post.
Send in your tip
Subscribe to the blog
Subscribe to the podcast
C'mon career bloggers! Let's show the Web that we can dish out something innovative and new.