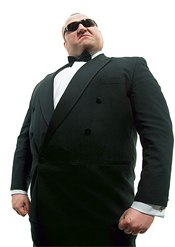 On a day when I am absolutely slammed at work, I share with you an e-mail that made its way to the Jobacle Inbox.
Dear People At The Bar I Work At:
Hello, I am your doorman. Sometimes I work at the front door checking your id but usually I am at the back door making sure no one sneaks in their buddy. You might remember me; I'm the guy in all black standing at the back of the club all night. I enjoy hanging out with you, I get to chat with people and get hit on by girls with daddy complexes and get drunk after work for very cheap. Its good times, but there are a few of you that I have an issue with. I'd like to let you know what's going on, to prevent any unpleasantness later on.
Guy Trying To Give Me Twenty Dollars To Skip The Line: I get it. You want to look like the man in front of your date by pretending you have connections, so you shake my hand with four 5's in it and ask how long the wait is. It's exactly as long as it was before you greased my palm. We are at capacity, and if I let you in and we are audited, I get canned. So $20 isn't going to pay the money I could potentially lose in wages. If you slid $5000 into my hand, then we will talk.
Only Girl In Huge Group That Doesn't Have ID: Let me get this straight. You planned on going out drinking tonight, right? And you realize that if it wasn't for your huge fake cans, you would look like a twelve year old, right? The why wouldn't you bring your ID to the bar? I realize that belt you call a skirt doesn't have pockets, but I'm sure the huge hobo bag your fat friend is holding could hold your ID, your birth certificate, and possibly your paediatrician to verify your age.
Girl Dancing On Table When "Ride A Horse, Save A Cowboy" Comes On: Do you know who does that? Strippers. It doesn't make you look fun and edgy, it makes you look drunk. And no, I'm not mad at you when I tell you if I see it again you're kicked out. It's just a hassle to clear the dance floor to get the paramedics in when you fall and land on your empty head.
Guy/Girl Wearing Sunglasses In The Bar: I realize those aviators or Ray-Bans or bug-eye face covers are part of the outfit, but you can't see anything and the way you are reeling around bumping into shit makes me think you are very drunk. Its distracting and I've got better things to do than break up a fight between you and one of the ten people you just caused to slosh their drink while you tried to get to the bar.
Guy Trying To Buy Me A Shot To Do With Your Buddies: Don't mistake my cordiality with friendliness. I am smiling at your drunken sexist banter because I am a host representing my employer, the bar. This doesn't mean we are friends, nor does it mean I will refrain from choking you out and dumping you in the alley if you get rowdy. Besides, I am working. How would you feel if I went to the cell phone store in the mall where you work and kept trying to hand you a Rocky Mountain Bear Fucker?

Two Girls Exploring Your Sexuality By Grinding Together On The Dance Floor: Keep doing that. You are fine.
Guy Complaining About Having To Leave While He Still Has A Full Beer: Shut the fuck up. I've been standing for six hours watching idiots get drunk and cause trouble. I want to have a few beers, get paid, and meet that girl who slipped me her number earlier. I don't give a shit if you have most of your beer left; Last call was at 1:45 and its 2:20. Chug that fucking beer and get out or I am going to cut your throat and pour it directly into your stomach.
If we can all be a little more conscious of how we are behaving when we are out partying, we will all have more fun.
Sincerely,
The Guy That Doesn't Want To Punch You In The Kidneys But Absolutely Will.