After today I am taking the rest of the week off for a much-needed and long-overdue mini vacation. A few days sitting on the beach and thinking about nothing will be a beautiful thing. And while I doubt I'll be able to shut my mind off completely, I will do my best to forget what my cubicle looks like.
That being said, I wanted to take this opportunity to thank every Jobacle visitor. Since I launched this thing at the beginning of the year, I've been amazed at the feedback, growth and relationships that have formed.
July marked our best month so far: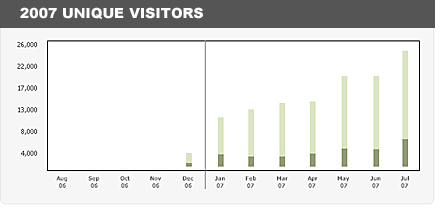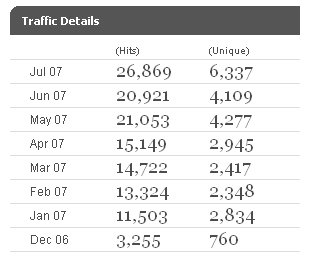 The increased popularity of the Jobacle blog and the Working Podcast have led a lot of people to contact me about partnerships, advertising opportunities, etc. While I analyze every offer on an individual basis, allow me to give you a better idea of what I'm currently looking for:
Web site advertisers
Podcast sponsorships
I'd like to produce YOUR podcast.
Or write YOUR blog.
Basically, I'm expanding the time I spend freelancing. If you'd like to talk about rates or learn more about my experience, please contact me using the link to the right or e-mail me at jobacle at gmail DOT COM.
Most importantly, I want to continue to produce Jobacle.com to be a product that resonates with the everyday office worker. Your feedback, input and stories will help take this project to the next level.
I hope you're on board for the ride.
Right now,I'm off to the beach. See ya Monday! 😉