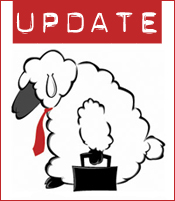 Every Friday I will bring you up to speed on the latest Joabcle happenings. Fear not, we're not ditching The Forward of the Week. It will be posted later today.
1) We would like to congratulate Graham Langdon, founder of the MillionDollarWiki, for hitting the 1,000 page mark. In a few short months that's a very impressive feat. To learn more about his project, download episode #69 of the Working Podcast.
I purchased the page MillionDollarWiki.com/Podcast which has already received hundreds of unique visitors. If you are a podcaster who is interested in having your show displayed on the page, please contact me, as I will be subleasing space on the page for $5 per show per month. You'll get to experience the benefits of the Million Dollar Wiki for a few bucks before you decide to shell out $100. As the MDW grows, this is a great way to get some extra, targeted exposure for your show.
2) This is a great time to subscribe to the Jobacle blog. We've got some great things planned for next week: I'm going to share something about my time working at the FOX News Channel that you have NEVER heard before – and it will shock you! Also, for those of you who work in a public area or cubicle, we'll pick apart a product that promises to eliminate all that background noise.
3) Our comments contest continues until October 15. We've definitely seen an increase in the number of comments, however, you still have a VERY GOOD shot at winning. Walk away with an Old Navy gift card, Virgin Mega Store gift card or a month-long, site-wide banner on Jobacle.com. This should appeal to our fellow career bloggers because the ad is in a great spot and our traffic continues to rise.
4) One of our most commonly clicked pages is the "About Us" page. Currently, I have a simple sentence or two about myself. My question for you is what do you want to know? Info about me? My motivation? I plan on making this page more complete over the next week or two and want your input to help make it happen. Use our form or e-mail me at jobacle at gmail dot com to let me know what you want to read about.
5) The Resume Hunter continues to be a popular new feature. While I originally planned to keep this as a random feature – meaning that we would only dissect unsuspecting victims – I've decided to open up the floor for everyone. So, if you are interested in having your resume or cover letter publicly evaluated – send it on over. The goal is not to be mean. The plan is for all of us to learn from your mistakes – and help you correct them!
6) I realize we've been stuck on episode #70 of the Working Podcast for several weeks. Rest assured, a new show will be released over the next 10 days – so please subscribe now. My excuse for not producing weekly shows is that I am working on a brand new podcast – this time – as a contractor for another company. Stay tuned for details.
That's it for now, friends. I can't thank you enough for reading, listening and helping spread the word about Jobacle. We are committed to keeping you in the loop on everything career related – without any bullsh**. Have a great Friday and an awesome weekend!