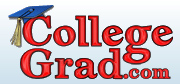 Winter is fading into spring, and I for one, am waiting with open arms. Aside from enjoying sun-drenched days from the discomfort of my cubicle, I'll also be paid a visit by some of my favorite annual guests: THE INTERNS.
Wide-eyed on day one, disgruntled by the end, these college-aged kids come in for a resume boost, three credits and to get mom and dad off their back. Sometimes there's nothing like new ideas and energy to brighten up the joint!
CollegeGrad.com, which specializes in entry-level jobs, has announced the Top 200 Intern Employers for 2008. That will equate to more than 46,000 interns.
Walgreens alone plans to hire 7,350 interns.
Read more here.
Other interesting results yielded by the survey include:
53% of participating companies plan to hire more interns than last year
25% will be hiring fewer interns than last year
2008 will have 0.52% more interns than 2007
Looking for an entry-level gig? Find out which companies are filling positions in '08.
While targeting companies on this list can be useful, I've personally found that reaching out to your dream organization – even if they are not actively soliciting interns – can be very successful, especially if you focus on small to mid-sized companies (which I recommend).
We'll have a lot more on interns and internships as the season gets a bit closer (so subscribe). Remember, be nice to the interns! In order to make work better, you must talk to people you don't know. 😉