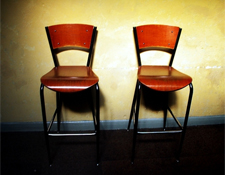 Back in school I was the guy who sat in the next to last row. Maybe it was my little way of raging against the machine. Or maybe I just wanted to be able to doodle without my teachers seeing. I dunno. But recently, when I attended a meeting at work, and my boss asked me to "move up," my blood began to boil. It was a reminder that nothing changes. The reality is, 20 years later, I'm still being told what to by a "superior."
After a few deep breaths, clarity began to set in. I mean, c'mon Andrew G.R., you're 31 now and maybe it's time you actually did the unthinkable and sit NEXT to your boss.
As tough as it is to rid yourself of the instinct to sit away, here's how sitting next to your boss around the conference room table could impact your career in a positive way. We recommend you try it at least a few times (unless of course your boss has offensive breath!).
Better Comprehension. You might look like a kiss ass, but there's no denying that it's easier to pay attention. This will result in a better understanding of the subject matter.
Subtle Hints. You'll also be able to pick up on body language and other visual hints which might give away your boss's true agenda.
Make Inroads. If you are the type of person who is intimidated or frightened by your boss, sitting next to him/her can be very helpful in overcoming those fears. At the very least, your presence will be noted.
Ultimate Dis. While silly, depending on your boss, he/she could take the fact that you're sitting far away, as a personal insult. Think about it: how would you feel if someone sat 10 chairs away from you and most of them were open?
Private Eyes. A nice bonus about sitting next to your boss is that you won't be forced to keep eye contact with him/her the entire meeting. Sitting further away can often result in your boss watching you more than they would if they are next to you.
Lean on Me. If the meeting is being held by another department, sitting close to the Big Man will enable him to ask you questions on items he doesn't know. This will relax him, make you look good and reinforce the fact that you know more than him anyway. 😉
Camaraderie. If you sit far away from your boss you are sending out a message that the team might not be unified. This can hamstring your future efforts to push your projects forward. Even if you feel the opposite, sometimes it's best to portray a rosy picture.
There's also the issue of promptness:
Arrive Early
– I care how I represent myself
– At the very least, I'm trying
– Teacher's pet

Arrive Late
– I'm soooo busy and important
– I don't respect you
– I can't meet deadlines
For more free career advice on meetings, be sure to download The Art of the Meeting, a special episode we produced of the Working Podcast. As always, your tips and thoughts are encouraged in the comments section below – they'll also get you entered into our contest.