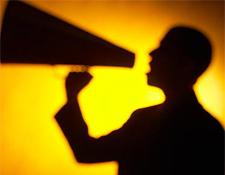 One of my goals when I started the Working Podcast (and eventually Jobacle.com) was to create a community of real people who had hit some career roadblocks and were ready to take positive action. I am beyond thrilled at how the Web traffic has grown – particularly over the past six months. However, I'd still like to see more blog comments and podcast feedback. Here's your chance to help me accomplish that goal – and possibly win some cool prizes.
From now until October 15…
– You are entered once for every public blog comment you leave on ANY post. It should be relevant, intelligent and pithy. Basically, anything but obvious spam.
– You are entered twice for leaving an audio comment that will be used on a future episode of the Working Podcast. This can be a quickie job tip, feedback or anything else career-related. Heck, even give your career Web site a plug. Leave a message @ 888/786-1080.
– You are entered three times by linking to us from your blog/Web site and letting me know about it. I'd prefer if you don't refer to the contest and just write something about our site or an item we have posted.
You may have a total of 10 entries total. Winner will be announced on The Working Podcast so subscribe now.
You will have your choice of one of the following prizes:
$30 Virgin Mega Store Gift Card
$25 Old Navy Gift Card
One Month Banner on Jobacle (click for rates)
Winners will be chosen at random. I wish I could offer more. But as you already know, I'm just one perfectly middle-class dude putting way too much time into this Jobacle thang!
I look forward to your comments!