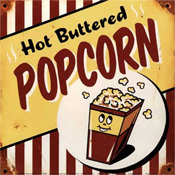 We recently complained about "popcorn nukers" in our Office BINGO game.
The smell wafts through the air, causing a distracting paralysis. Often, you can set your watch to this activity.
Well, now we know that this behavior is not just irritating – but potentially deadly as well!
The culprit seems to be diacetyl, a buttery-tasting chemical that causes coughing, shortness of breath, and eventually bronchiolitis obliterans – an obliteration of the tiny airways in the lung.
Not fun. Popcorn Lung is no laughing matter.
Apparently, Wayne Watson, the deceased popcorn victim ate TWO bags a day (poor co-workers!) and tended to huff the steam since he liked the smell.
Every office has at least one popcorn nuker.
You can learn more about the case from The Pump Handle, the blog that brought this disturbing story to light.
As soon as someone in the office opens that bag of popcorn and the fumes escape, I have to go outside because I cannot stop coughing, choking and clearing my throat and then my head pounds for the rest of the day. They always look at me like I'm making it up just to get out of the office, but now there is some proof. Thanks so much!
– Lori
No one deserves to die by popcorn, but to ensure good karma, it's important to show your colleagues some "food courtesy." Two bags of popcorn a day?! I'm surprised his cubemate didn't kill him. Maybe they should re-open the investigation…