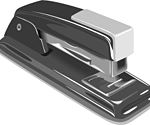 Desk supplies haven't really advanced. Sure, pens use gel ink. But dry erase markers still stink. Chairs have better cushions, yet they still find a way to inevitably squeak. As the world continues to technologically evolve, is the office being left behind?
Perhaps.
Off the top of my head, here's a list of items that I pray some engineer is working around the clock to produce.
– Bend-proof paperclips
– Everlasting ink pen
– Odor-free White Out
– Silent Stapler
– Unsmudgable high lighter
– Leak-proof 3-hole puncher
– Tape without seams
– Stain-free computer mouse
Learn more about the history of lo-tech office supplies.
What office supply inventions would you like to see? Share yours below and win some cool prizes.