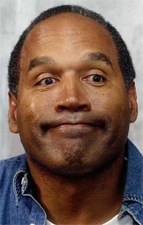 At first glance, the Resume Hunter might like what he sees. Proven champion. Successful franchise owner. Diverse accomplishments in acting and broadcasting. However, most employers wouldn't get past the name: Orenthal James Simpson, aka OJ.
And you thought YOU weren't getting callbacks! Here's a few reasons why we think OJ could be the absolute worst employee ever:
– No Motivation. We've all dealt with lazy employees, but why should OJ finish up those loose ends? Every penny he makes is owed to the Goldman and Brown families after being found liable for their deaths in a civil court. And OJ will be damned if he forks over a penny of the $33.5 million judgment. With a cushy NFL pension (that the government can't touch), this guy has zero motivation to do a good job.
– Cloudy, With a Chance of Murder. Nothing sends up a red flag in HR like a job candidate who has been accused murderer. Most employers steer clear of candidates who appear volatile or "on edge." Imagine cutting off OJ in the hallway or ordering Chinese without asking if he wanted anything? Guaranteed it'll be worse then the cold shoulder Betty in accounting already gives you.
– Sloppy Work. Companies like keeping a tidy ship, something OJ surely isn't familiar with. In each of his "alleged" crimes he sure left a lot of evidence lying around.
– Outcast. We all drop "team player" somewhere on the road to a new job, but in OJ's case, it's a blatant lie. He was the only former Saturday Night Live host not invited to attend the program's 25th anniversary celebration special in 1999. He also hogged the ball in his NFL-playing days. Good luck getting him to meet that sales quota so you get that pizza party.
– Unlucky. Before his days as an "alleged" criminal, Simpson was the spokesman and owner of a Pioneer Chicken franchise. During the LA Riots, one of his restaurants was completely destroyed. Bad luck. He's totally going to lose his money in the vending machine and then jam it up for everyone else.
– Tardy. Assuming he'd actually show up at work, you know he'd be sooo late. After all, he's a fan of low-speed drives.
– Theft. OJ once was busted for pirating satellite broadcast signals. Imagine how barren the supply closet would look after a week?
Despite strong writing skills (from the brilliant but cancelled "If I Did It"), the only plus we see in hiring OJ is that people actually still pay money for his autograph. So if you are unfortunate enough to have him show up for an interview, at least have him fill out an application – and then sell it on eBay – before he can come and steal it back.
Let's hear from YOU! Would you hire OJ? Leave a comment and you'll be entered into the Jobacle Comments Contest.