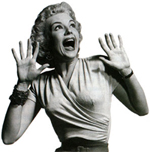 And by "even" I mean "even tempered." Anger at work is bad news and can lead to things much worse than just hating your job. On this episode of the Working Podcast you'll learn:
-Simple tips that can help keep you calm while you're at the office.
– The latest career resources, including pocket resumes.
– An interview with Bruce, the founder of DayJobNuker, a Web site that chronicles
his dislike for the 9 to 5 and how he plans to make ends meet by making money online.
There are three ways to listen:
– Stream on our homepage (shows plays instantly)
– Stream from the player below (about a 60 second load time)
– Download direct