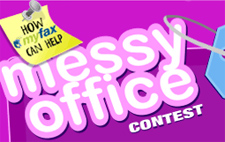 Are you proud of your lack of organizational skills? Do you have a pathological aversion to conforming to society's standards of neatness?
If you answered 'yes' and think your office is a stinky fire hazard, you can nab one of the eight remaining slots in MyFax's Messy Office Contest.
A panel of "Messperts" will pick two out of 10 slobs to advance to the finals for a $10,000 cash grand prize. Weekly prizes are handed out as well.
Check out the competition so far.
If you're game, upload a photo or video of your office before February 25, 2008 noon EST. The winner, voted on by the general public, will be announced by March 5, 2008.
The Internet fax service provider, which currently adds more than 10,000 new subscribers a month, is hoping this viral campaign will help build their brand and sell their service.
I've got some work issues, but being messy ain't of 'em! Good luck!
Here are the rules…