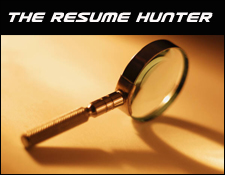 Every career site seems to yammer on and on about "What to Avoid on Your Resume." Jesus. If you don't get it by now, odds are you never will.
While trolling Scribd.com I came across Kevin Cantrell's resume. I have no idea who he is. But a quick glance revealed several crucial resume mistakes. The information below is not to pick on Kevin. Rather it's to help him (and you) see the error of his ways. Besides, if you're going to post your resume for the world to see, you should make sure it's polished.
Please Scam Me. Just like you never put your Social Security number on a paper resume, you should never put all of your contact information on the Web. I would use an e-mail address specific to that resume so you know where your inquiries are coming from. Also, I would use a service like GrandCentral and avoid using your true, everyday phone number. Do not include your home address.
No Errors, Period. I won't bore you with this one but the resume below is missing hyphens and has some serious casing issues.
The "ED" Problem. Directed. Restored. Supported. Compressed? Kevin's resume is littered with action verbs. While useful when used sparingly, every item does not to begin with a word ending in "ed."
Lapse in Judgment. This resume was just uploaded yesterday, yet the work experience ends with September '06. That was almost a year ago! It appears Kevin might have a valid excuse. When scrolling down I see that he's "working towards degree in Microbiology." That's something that should have found its way to the top to explain a year on "inactivity."
Strategic Omission. With experience at Goldman Sachs, Morgan Stanley and JPMorgan, why on earth would this dude include a 30-day, 2003 stint at J Crew? I can let the Sea World gig slide since it might tie into the whole microbiology thing. But J Crew?
Look, Kevin's resume isn't horrible. I've seen ones in much worse shape. But the Resume Hunter is out on the prowl. His/Her job is to scour the Web and make examples out of people who put their stuff out there for the universe to consume. We'll be looking for the good, the bad and the ugly in the world of resumes – so prepare accordingly! We can learn something from everyone's' resume, so please subscribe now.
A lot of HR professionals and headhunters check out the Jobacle career blog daily. I encourage them to dish their advice/feedback on this resume below!