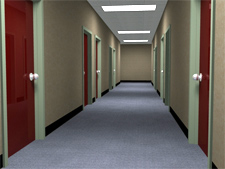 She's the slowest walker in the building, and more often than not, I get stuck behind her. It's not a casual shuffle or a meandering stroll; it's a walk with a purpose. A slow-motion gait that makes a statement:
"I'm in no rush…for anything."
In a way, who can blame her? For all I know this is her only 15-minute opportunity to stretch her legs and escape her cubicle.
What irks me is how she travels through the center of the hallway, forcing you to either slow to a crawl or awkwardly slip around her. What she doesn't realize – or perhaps does – is that the way you walk the hall can be a peek into you as an employee. Fair or not, you can and will be judged by the way you walk the halls.
TOO SLOW
You haven't a care in the world. If you're going to milk your public time, God only knows how you're passing the clock at your desk.
TOO FAST
People will be put off that you're "soooo busy." This walk can quickly reek of self-importance. It leaves people unsettled and makes you appear unapproachable.
HEAD DOWN
This walk brings your self-confidence into question. If you can't look people in the eye and say 'hi,' how will the organization trust you to manage staff or close deals?
DIRECT EYE CONTACT
Hallways are long places. Often, we identify one another at a length that is too distant for conversation. Couple oblivion with poor eyesight and we'd all be better off holding our greetings when we're within 20 feet of one another.
MEEK
They are the iron to your magnet. Somehow, they find a way to walk into you. Often muttering 'sorry' or laughing at their own follies, they dance around you to get where they need to go.
So what's the right way to walk the hallway at work? A moderate pace with intermittent eye contact, walking close to the wall, is probably a decent start.
Also…
– Don't block the hallway when walking in a group
– Keep the volume low if you're engaged in a conversation
– Don't turn to see who's walking behind you
– Don't make sudden stops or turns
From sexual orientation to evaluating your risk of committing a crime, it's no secret that body language – and the way you walk – can allow others to form opinions about you.
Whether it's a rant or a tip, talk about walking the office halls in the comments section below.