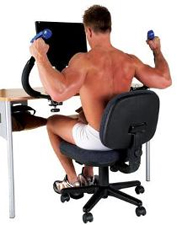 One day, someone will invent a contraption that allows office workers to exercise while planted on their fannies. Burning calories while writing reports would be the ultimate in multi-tasking. The latest piece of exercise equipment to try to bridge your desk and the gym is the SpringFlex UB. Before I tell you about the bells and whistles, I feel I must disclose the fact that this piece of equipment is available for purchase in Sky Mall. Yes, the magazine that we're forced to read 10,000 feet in the air. And yes, the same magazine that sells a hot dog toaster.
The SpringFlex is designed to tone your upper body, curb weight gain and keep your metabolism in motion, all while minimizing injuries associated with repeated movements. (i.e. – mouse clicking, keyboard tapping)
Unlike the expensive and large WalkStation we told you about last week, the SpringFlex is reasonably sized and sells for approximately $80. Considering the cubicle Bowflex wannabe claims it can perform 120 exercises, that'll only run you about 66 cents each.
SpringFlex attaches to your desk and could help reduce the risk of Carpal Tunnel Syndrome. Shirt optional (but preferred).