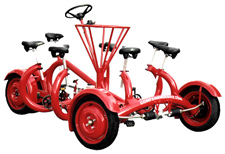 In an effort to "get the juices" flowing, many companies turn to some interesting tactics to get people to brainstorm. I've been part of my fair share of off-site meetings. They've brought us to mansions and fed us upscale soul food. They've brought in an "independent third party" to help keep us "on-point." They even splurged for an overnight trip to a popular amusement park.
In the end, the result was always the same: watered-down ideas from the same jaded employees who would have all preferred an extra dollar in their paycheck.
I've moved on to a company with much smaller pockets. Nowadays, taking us off-site consists of traveling up the block to one of our satellite offices. Does that mean we don't communicate as well as my former fancy-pants company did? Not likely. But if you have some extra money in the budget and are looking to bring people together in the most awkward way possible, The Dutch Bicycle Company has the answer: The Conference Bike.
I kid you not.
Powered by 7 riders sitting in a circle, six folks pedal while one steers. According to the company's Website, these bikes are being used to transport employees on the Amazon.com campus in California, as a tour bike here in New York and – here's the rub – a tool for corporate team-building in San Diego.
Coined the CoBi by American artist/inventor Eric Staller, the bike is
environmentally-friendly, a source for a good workout and a can't-miss icebreaker.
It's times like these I'm grateful not to be working for my former company. Knowing them, they've laid off hundreds but have purchased three conference bikes.