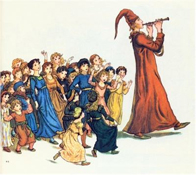 Ah, the mystique of leadership – a phenomenon that we've all been brought up to value, revere and even aspire to. Leaders are made, not born, or so they say…and they abound in just about every movie ever made. After all, it's really a continuation of the Horatio Alger myth; ever striving onwards and upwards, fighting adversity, and overcoming all odds to be a 'success,' a leader of others.
Yet, in our real world cubicle continuum, all too often we've seen not the best and the brightest, but the kiss-asses, sychophants, back-stabbers and other assorted dirt-bags promoted way, WAY beyond their capabilities. And so we've been generally more cursed than blessed with poor managers and even worse leaders. It's almost a generic – or genetic – institutional flaw. Just look around you. All too often, the charismatic, Pied Piper types are the worst of all.
Yet, countless books, articles and the like have been written about leadership and management, and the possible differences between the two. Hey, that's not necessarily a bad thing, because the more we think about these issues, and go beyond the semantics, the more clearly we can see who we are and what we really want out of our careers. Leadership, while satisfying and at times glamorous, isn't for everyone.
Do you have what it takes to be a leader? More importantly, do you want to be one? Here are 10 questions that you ought to ask yourself, before you decide. And no, there are no right (or wrong) answers, just truthful ones…because your comfort zone should be exactly that; yours.
1. Are leaders and managers the same thing?
2. If not, what do you see as the differences between the two?
3. Which are you more comfortable with, ideas or products, concepts or systems?
4. Are you more present or future-oriented?
5. Do you like to bend or break the rules to accomplish your mission?
6. Which do you deal more successfully with, change and innovation or maintaining the status quo?
7. Do you like being in authority, and if so, would you rather issue orders or work to inspire others?
8. Are you willing to take the risks that go along with increased responsibility?
9. Can you invest the time and emotional energy required to lead others?
10. Can you define the term 'heliotropic'?
By the way, our world accommodates both carnivores and vegetarians, and there's nothing to say that one necessarily trumps the other.
So, what do you think? Check back next week for my take on potential answers to the questions above.
Remember the fluorescents are always on at the cubicle continuum, and it would be great to share your responses with our community.