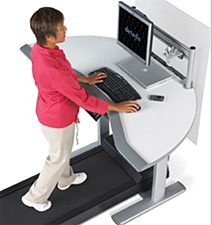 Can you type and walk at the same time? I'm not talking about thumbing your portable device as you walk into work. I'm talking about walking while you tap on your keyboard and paw at your mouse.
The creators of the Walkstation certainly hope you were born with the ability to multi-task.
In what's possible the world's first truly "portable" office, the Workstation is exactly what it sounds like, a treadmill with a built-in work surface.
Topping out at 2mph, and constructed with a whisper-quiet motor, you'll be able to burn calories without distracting your co-workers. That is, of course, assuming that they won't be jarred by the fact that you're walking in place all day.
Since one of Jobacle's missions is to Make Work Better, it's difficult for us to mock something that adds an additional layer of personal development to the place where we spend the majority of our time. So while my instinct just wants to laugh at the thing, I won't knock it until I try it. Here's what I perceive as a few of the pros and cons.
Pros:
Burn calories. The potential exists to burn 300,000 calories a year on company time.
Creativity. Perhaps those endorphins will bring your brainstorming to the next level.
Health. Sitting sedentary all day presents more health risks than being in motion.
Cons:
Expensive. Each Workstation costs around $4,000.
Large. As companies treat us more and more like sardines, I highly doubt they'll increase the amount of personal space we're allotted.
Awkward. Unless everyone is doing it, it's likely these machines will be a distraction.
I wouldn't expect your cubefarm to be invaded anytime soon. These machines will have to shrink is size, drop in price, and produce solid data on the benefits to the organization – not just the individual.
Out series of free workplace workout never came to fruition (maybe in the future), but one of our listeners can show you how to get buff with a pair of scissors.
If you're interested in learning how to do yoga at your desk, download this episode of the Working Podcast.