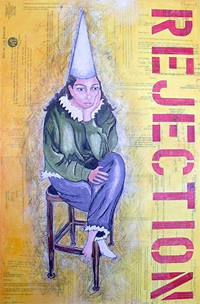 A little inspiration never hurt anyone, right? Follow your heart and don't let "no" get in your way…
Sigmund Freud was booed from the podium when he first presented his ideas to the scientific community of Europe. He returned to his office and kept on writing.
Winston Churchill failed sixth grade. He was subsequently defeated in every election for public office until he became Prime Minister at the age of 62. He later wrote, "Never give in, never give in, never, never, never, never – in nothing, great or small, large or petty – never give in except to convictions of honor and good sense. Never, Never, Never, Never give up." (his capitals, mind you)
Charles Darwin gave up a medical career and was told by his father, "You care for nothing but shooting, dogs and rat catching." In his autobiography, Darwin wrote, "I was considered by all my masters and my father, a very ordinary boy, rather below the common standard of intellect." Clearly, he evolved.
Thomas Edison's teachers said he was "too stupid to learn anything." He was fired from his first two jobs for being "non-productive." As an inventor, Edison made 1,000 unsuccessful attempts at inventing the light bulb. When a reporter asked, "How did it feel to fail 1,000 times?" Edison replied, "I didn't fail 1,000 times. The light bulb was an invention with 1,000 steps."
Albert Einstein did not speak until he was 4-years-old and did not read until he was 7. His parents thought he was "sub-normal," and one of his teachers described him as "mentally slow, unsociable, and adrift forever in foolish dreams." He was expelled from school and was refused admittance to the Zurich Polytechnic School. He did eventually learn to speak and read. Even to do a little math.
Louis Pasteur was only a mediocre pupil in undergraduate studies and ranked 15th out of 22 students in chemistry.
R. H. Macy failed seven times before his store in New York City caught on.
F. W. Woolworth was not allowed to wait on customers when he worked in a dry goods store because, his boss said, "he didn't have enough sense."
When Bell telephone was struggling to get started, its owners offered all their rights to Western Union for $100,000. The offer was disdainfully rejected with the pronouncement, "What use could this company make of an electrical toy."
An expert said of Vince Lombardi: "He possesses minimal football knowledge and lacks motivation." Lombardi would later write, "It's not whether you get knocked down; it's whether you get back up."
Michael Jordan and Bob Cousy were each cut from their high school basketball teams. Jordan once observed, "I've failed over and over again in my life. That is why I succeed."
Babe Ruth is famous for his past home run record, but for decades he also held the record for strikeouts. He hit 714 home runs and struck out 1,330 times in his career (about which he said, "Every strike brings me closer to the next home run."). And didn't Mark McGwire break that strikeout record? (John Wooden once explained that winners make the most errors.)
Hank Aaron went 0 for 5 his first time at bat with the Milwaukee Braves.
Stan Smith was rejected as a ball boy for a Davis Cup tennis match because he was "too awkward and clumsy." He went on to clumsily win Wimbledon and the U. S. Open. And eight Davis Cups.
Johnny Unitas's first pass in the NFL was intercepted and returned for a touchdown. Joe Montana's first pass was also intercepted. And while we're on quarterbacks, during his first season Troy Aikman threw twice as many interceptions (18) as touchdowns (9) . . . oh, and he didn't win a single game. You think there's a lesson here?
After Carl Lewis won the gold medal for the long jump in the 1996 Olympic games, he was asked to what he attributed his longevity, having competed for almost 20 years. He said, "Remembering that you have both wins and losses along the way. I don't take either one too seriously."

Walt Disney was fired by a newspaper editor because "he lacked imagination and had no good ideas." He went bankrupt several times before he built Disneyland. In fact, the proposed park was rejected by the city of Anaheim on the grounds that it would only attract riffraff.
Charles Schultz had every cartoon he submitted rejected by his high school yearbook staff. Oh, and Walt Disney wouldn't hire him.
When Lucille Ball began studying to be actress in 1927, she was told by the head instructor of the John Murray Anderson Drama School, "Try any other profession."
The first time Jerry Seinfeld walked on-stage at a comedy club as a professional comic, he looked out at the audience, froze, and forgot the English language. He stumbled through "a minute-and a half" of material and was jeered offstage. He returned the following night and closed his set to wild applause.

Charlie Chaplin was initially rejected by Hollywood studio chiefs because his pantomime was considered "nonsense."
Beethoven handled the violin awkwardly and preferred playing his own compositions instead of improving his technique. His teacher called him "hopeless as a composer." And, of course, you know that he wrote five of his greatest symphonies while completely deaf.
Van Gogh sold only one painting during his life. And this to the sister of one of his friends for 400 francs (approximately $50). This didn't stop him from completing over 800 paintings.
Leo Tolstoy flunked out of college. He was described as both "unable and unwilling to learn." No doubt a slow developer.
Emily Dickinson had only seven poems published in her lifetime.
27 publishers rejected Dr. Seuss's first book, To Think That I Saw It on Mulberry Street.
Jack London received six hundred rejection slips before he sold his first story.
Keep on truckin'!