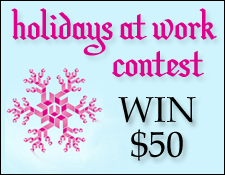 The holiday flood gates have officially swung wide open. In fact, as I type this, I'm surrounded by strings of lights, faux snow flakes and poinsettias. They're probably at your office too;"Ambiguous decorations" as to not offend anyone.
I hate being a Grinch. I LOVE the holidays – when I'm with my family and friends. Holidays at work, however, are nothing but a land mine-filled mess.
Career media will trot out their annual Holiday Party Dos and Don'ts list. (It's already started)
As always, it will be stale information. These same folks will fabricate stories of office party chaos. You know, the one where the boss and the administrative assistant had too much to drink? It's all BS.
December is jam-packed with bizarre office rituals. For example, this Holiday Door Decoration Contest that was submitted by an anonymous Jobacle reader.
Listen, anything with that many rules that is judged by "The Quality of Work Life Committee" simply can't be fun!
Here's some insight into my annual holiday misery. Every year my boss has the most degrading office ritual. He lays out all of the swag he acquired during the year in his office. The staff then picks numbers to determine who can enter the "store" first. You walk in, pick an item, and then stand around making bad jokes about what you picked. Everyone takes turns until everything is gone.
Now what kind of stuff do we get? Some shining examples from last year include a knapsack, a t-shirt and plenty of mugs – all emblazon with company logos.
It might not be the best thing for my career, but this year I will NOT participate. No way.
Now we want to hear about what your company does. Whether it's an obnoxious Kris Kringle grab bag or wacky holiday party – tell us! It can be good, bad or funny. Special attention will be given to those people who share an image or a memo.
One winner will get FIFTY DOLLARS via PAYPAL. That's right, cold hard cash for you to spend anyway you like at all of those post-holiday sales.
To enter, please send your story to JOBACLE at GMAIL dot COM. Contest ends on December 31, 2007 at 11:59pm ET. Your entry might be included on the Jobacle blog. Please provide specific instructions if you would like certain information to remain anonymous. We will respect your wishes and never put your job in jeopardy.
Oh, and happy holidays!!