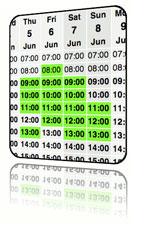 Ever notice how it often takes 10 e-mails to accomplish what could have been done in one simple conversation? I often find this when it comes to scheduling meetings at work. You know the drill.
Cube Dweller #1: "When do you want to meet? I can do Wednesday morning or any time on Thursday."
Cube Dweller #1: "How about Wednesday at 11am? But we should probably ask Susie."
Cube Dweller #1: Sounds goot to me. Susie, will that work for you?
Susie: "I can't do Wednesday, but Thursday is good."
Cube Dweller #2: "Hmmmm. Thursday won't work for me. How about Friday?"
ENOUGH!!!
There a brand new tool that makes the process easy, quick and painless. You don't even need to register.
Check out When Is Good.
The Web app lets you create an event, highlight the times that are good for you, and share a link with coworkers. Coming soon, Outlook and Google Calendar integration.