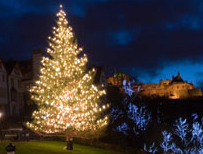 Henry Brown ruined Christmas. I'll never forget the flamboyant MTV Networks Office Manager who insisted I remove Christmas lights I had hung from my work studio.
"They're a fire hazard."
While I was annoyed at the time, I now realize that good ol' Henry was right. Incandescent Christmas/holiday lights are a common source of home fires during the holiday season, partly, because they cause a lot of heat and use a lot of electricity. The fact is, LED Christmas lights operate at 1 degree above ambient temperature. That means they remain cool to the touch even after hours of use. You'll also save energy! LED holiday lights only draw about .072 watts per bulb so they are not likely to overload a standard home circuit.
Replacing your inefficient incandescent holiday lights with LED holiday lights will not only save energy but will improve home/office safety. Here's a summary on LED lights:
* 90% less energy
* 50,000 hour bulb life
* Safer – cool to the touch
* Durable 1 piece construction
* Lifetime warranty
While Henry might be out of my life now, these are holiday lights that any office manager can appreciate!