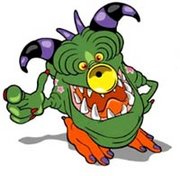 Since 1994 Monster.com has been the job boards "leader," and since that time, an endless number of "Quality vs. Quantity" debates have spawned. Love them or hate them, their is no denying that their quick rise (and ability to stay on top) has been impressive. Heck, they were the first dot com to sponsoring Olympics and on any given Sunday, have floating blimps around the nation.
Now I've only been doing this career thing since 2005, but one consistent theme has clearly emerged: people hate Monster, yet people still use Monster! Maybe even OJ!
I am constantly getting e-mails from listeners and readers blasting Monster.com and how much is "sucks." Well for all of you haters out there, you enjoyed the Website's recent hacking and now you'll get a kick out of this e-mail that they are sending around to employers:
We think you'll agree that it's the best deal around: Purchase a single 14-day Job Posting and get two more free. Including, of course, Monster's easy-to-use online tools and 24/7 live customer support.
Time Is Money and Monster Saves You Both
Finding and hiring qualified people has never been so fast and affordable. Monster Job Postings let you:
Create crisp, compelling job ads in minutes with our One-Click Ad Writer.
Identify the best candidates using our automated screening features.
Organize the entire process with our valuable online management tools.
To buy one Monster Job Posting and get two more free, call 1-800-MONSTER (666-7837), ext. 1019010 now. Be sure to mention promo code A16Q3T4.
Offer ends 10/15/07, so now is the perfect time to put Monster to work for you.
Desperate times for Monster? Maybe.
While I am a true believe that Monster.com has many problems, (way beyond the fact that every job posting seems to be for the Air Force) I must be honest: one of the best jobs I ever had came via Monster. Call me the needle in the haystack. So since a lot of people always ask me, "What about Monster?" My advice is simple. Use it as a small part of your search.
While the quality of their job postings are certainly questionable, so is a lot of their advice. It's a rare, rainy Tuesday that I ever find a unique piece of career advice that makes me feel that I walked away with something of value. I will say, however, their blog has recently improved, tackling some out-of-the-box issues. Or at least presenting them in a sexier wrapper.
Be sure to keep up with the Working Podcast for the Career Filter – the only Internet radio show segment that brings you the best career resources on the Web.
So does Monster.com suck? What do YOU think? I'd love to hear your thoughts. Leave a comment below or leave a message at 888/786-1080 and you'll be entered into our contest.